Ken has kindly put together a few words regarding the visit to Glen's new track at Caloundra
Many thanks Ken and Wendy
KEN'S REPORT



With Christmas fast approaching all the boys for Q32 and Legends were wanting to have another slot car race before being off on holidays with family.

Glen emailed everyone, giving the guys the option of racing on his track, two dates were initially thought of first, but after some emailing discussions, the date was set.

Therefore on the 18th of December 2010, all the slot car enthuses jumped in there cars, or bummed a lift and set off to Caloundra.

WOW what a house! It is a beautiful house surrounded by hill to the north of the centre of Caloundra's, and with the whole of the down stairs area dedicated solely for slot cars enthusiasts.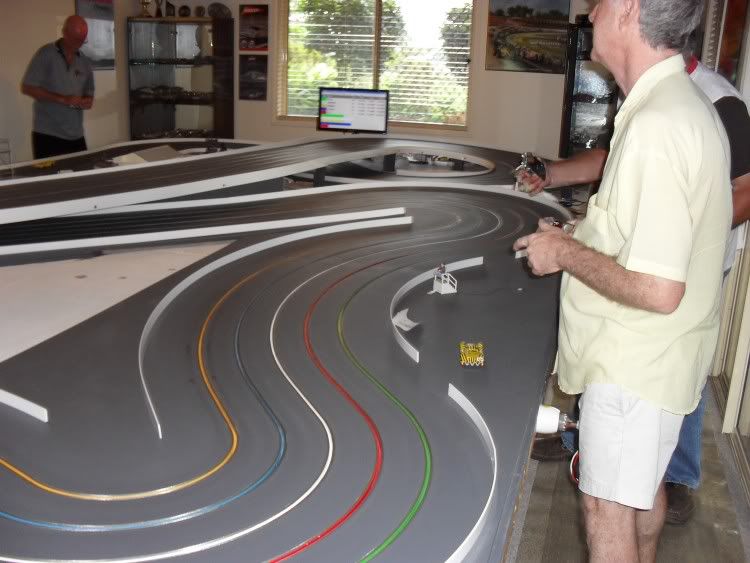 5 participants could all race together, one person on Green, one Red, White, Blue and Yellow. Then we would all have to wait for 5 people to finish racing, instead of usually waiting for 4 people, before commencing our next race.

The benefits of having 5 people racing; especially for the person who finishes in 4th position, they don't come last, like they usually do at other race tracks. This is a trait that Ken C knows all about.

Half way through the evening the computer experienced a technical glitch at counting past 20 and in the process it stoped 3 tracks in order for the other two lane to catch up. Thanks to Eggy for jumping to the computer's rescue. Once the problem was fixed racing could continue.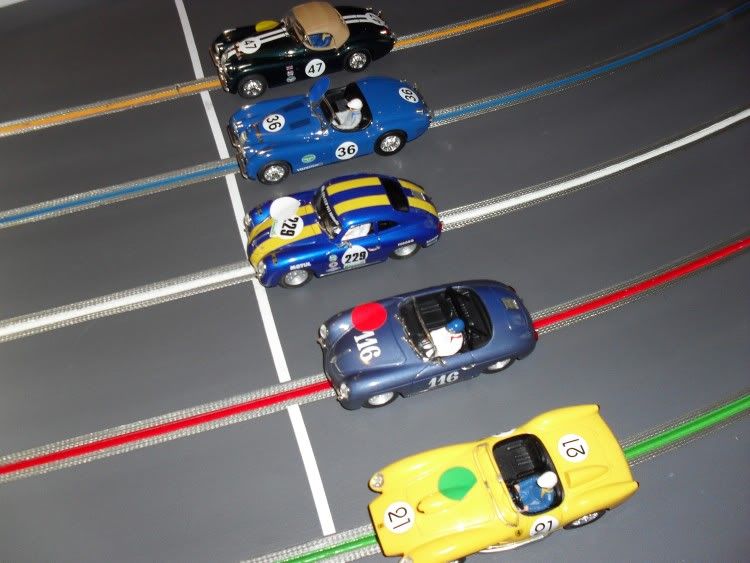 Glen has had a lot of experience when it comes to building slot car tracks as this is his second track. He designed it to have no blind spots and for the track to be smooth for cars to manoeuvre easily around the winding bends and curved levels.

We all had such a great night and look forward to travelling to Glen's place someday again soon. Thanks Glen for having us at your place!

Look forward to see you all again at the next race night, a Bob's place on 8th of January. From Ken Cosgrove