Anatomy of a race winner




Brisbane has long waited for a slot car emporium which specialises in the popular 1/32 ready to race models. As well as supplying manna to the devoted it also became a Mecca for those that wanted to race. I attended a few informal events and it wasn't long before it was obvious that this venue was going to supply two kinds of racing. Manic.... and meaningful!!! Well, the manic converted into such traction magnet classes as Slot.it, Scalextric V8's Fly etc. This catered for the masses who wanted the adrenalin rush and the bill to go with it. In most of these classes the pre requisite was to buy a model and throw money at it until it could go as fast as practical!! Motors, wheels, gears, tyres etc, all up for grabs. Don't get me wrong. I'm not knocking it. As with a lot of things in life it is horses for courses! I have raced and do race magnet classes and those who have raced with and against me will tell you I can be as competitive as the next and as successful as the best. No, manic racing isn't for me, not only because of the expense, but also because of the destruction handed out in the heat of the event. Deslotting can potentially be the last thing that happens to you in a race with the rest of the field in close formation, exiting corners flat out while you are drifting across the lanes!!. Parts showering down on all and sundry as one or more models are dealt a savage blow by one or more models !! I prefer my magnet racing to have financial constraints, much like club racing, on a level playing field, leaving skill to be the arbiter.

But this prose is not about magnet racing, this is about something more subliminal, more skilful and in the long term, more affordable!! This is the skilful art of non magnet racing.

Non magnet racing is poo-hoo'd by some near the top of the magnet racing ladder. Why is this? Invariably these people won't race non magnet competitively for fear of humiliation. I have seen them make tentative efforts at being competitive and fail, you can't throw money at a non magnet class like you can others. You can buy tyres, yes. But you can't buy skill! That's something you work at and hone finely until every aspect is sorted and ready. Not only driving skill but setting up too. It's no good having the best reactions in the shop if the model is not up to it! So what is this all about? It's all about a recent race series I entered tongue in cheek and ended up winning. Winning because I paid attention to detail and focused on the job in hand as the competition improved, and the most important details were the model set up and driving technique.

The race was for SCX Rally non magnet. The rules were posted and those who were entering, set about kitting themselves out with the necessary tackle to complete the job. The event was to be run over six evenings with a two week break between race nights. Race night would consist of two events of six heats each. All drivers would race on all lanes twice per evening. The track was a fast flowing six lane Carrera circuit with a race management system. Motors were allowed to be up graded to the Pro Turbos and tyres were originally restricted to SCX and MJK's but it was obvious fairly early on that tyres were gong to be open slather and scrutineering based on trust. There were to be a couple of preliminary evenings before the start of the event. This would allow racers to compare their set ups with other contenders.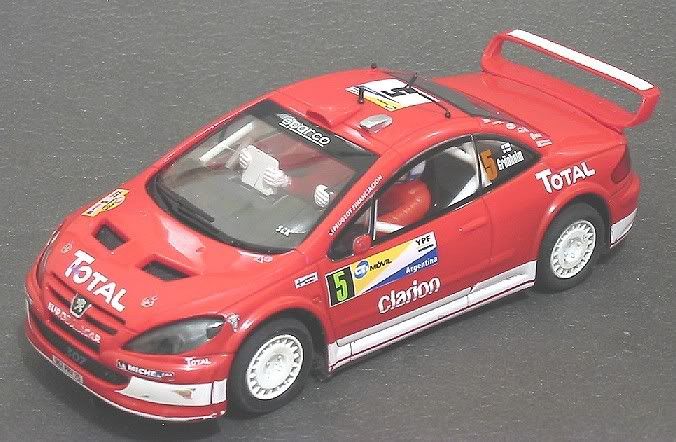 Weapon of choice - the SCX Peugeot 307





The preliminaries were an eye opener and an education. In the first one I ran a very early SCX Marlboro Celica with its original RX41. I had already raced this on board tracks with a modicum of success but not on a sweeping track with sixteen or seventeen people baying for blood. The car performed well and its closest contender must have been a similarly early Porsche 935. All the modern cars were struggling for grip and straight line speed was all they had going for them but I suspected this might change before the end of the prelims. The following preliminary saw me race a veteran Xsara with a Pro Turbo in it and as expected, the field were getting faster and the Celica would have been out classed. The Xsara was quick enough but as it is, I would expect the rest of the field to chip away at my advantage slowly but surely. Had these prelims been the first two rounds I would have romped away into the lead giving myself a comfortable buffer but the racing hadn't started and I needed to set something up.

The Xsara is a nice low model and it takes a lot of tipping over but it still didn't have the cornering of the Celica? Urethane tyres where fine for a bit but when they wore down they became slippier and also started to roll off the rims in the fast banked sections so they were discounted from the start. Closer inspection at home revealed that the Xsara's front wheels were only making contact with the track spasmodically and no amount of guide adjustment was going to change that, and I was banking on complete 4wd to give me a bit extra in the corners instead of ballasting too heavily which would detract from my straight line speed. Other entrants had disconnected their 4wd completely and were focusing on a 2wd set up with heaps of rear grip. But I was still convinced that true 4wd was the way to go. So what to do? Well the solution sprang upon me quite by accident. I had been looking at some of the more recent SCX Rally models and was attracted to the Peugeot 307. I already have the Scalextric and Carrera models but they weren't eligible but a closer look at the SCX 307 showed it sat fairly and squarely on 'all fours'. It was interesting to note that almost exclusively throughout the series, I was the sole Peugeot driver (one did turn up for a couple of rounds but was abandoned). There were Suzukis and Citroens, Mitsubishis and Lancias and Renaults and Seats. Almost the whole range of SCX rally models from the last ten years. Some guys almost had a different model in each race!!?? Anyhow, the purchase was made and I set about making the model driveable.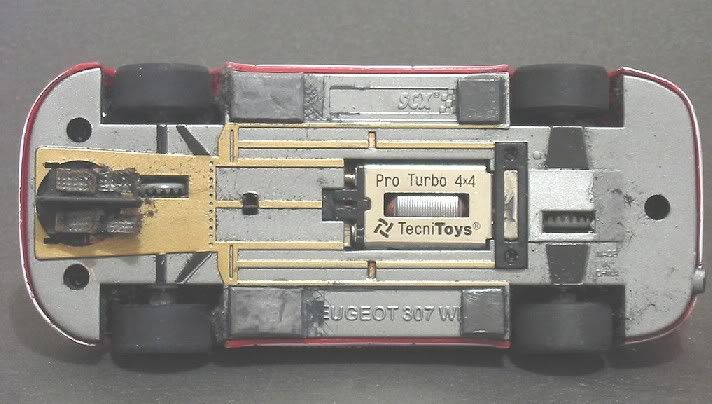 The underneath – yes, I know there's a magnet there, but trust me when I say it was put back after the comp!!




First mod was the motor. This was changed for the Pro Turbo 4X4. This would still leave me at a little bit of a disadvantage as the single end drive Pro Turbo Plus's run at 19,000 rpm whilst my motor is technically flat out at 18,000rpm. Not to worry, there are a host of other blue printing mods to do. The motor was glued in place, critical for non magnet racing. I didn't want any surprises from this model, either off or on the track. Next were the axles. These have a tendency to slop about a bit in the bushes and the bushes tend to move in the chassis. The fronts were poor but the rear brass bushes were fine. Well done Mr SCX!! The fronts were changed for some old white nylon MRRC bushes I've had for yonks and the front and rear axles were lightly glued with superglue at the top opening of their chassis mounting. Next was the abominable row that was coming from both gears. Remember, I have always said that it takes energy to create sound and if the energy is creating sound then it's not helping to push the car along. The solution was a few treatments of Tamiya fine polishing compound. I placed a drop on the front and rear contrates and ran them for four or five minutes under a light load. This I repeated once more and after washing the gears off with water and lubricating with Vaseline the model was now as quiet as most.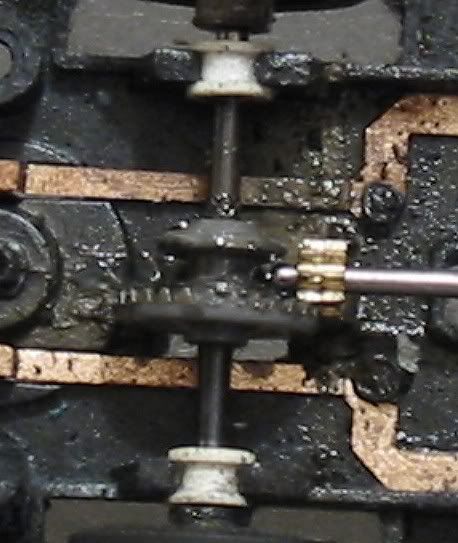 The MRRC front axle bushes.





The critical parts of the drive train had been done. Next I needed to go round the model and pick up on all the other minor faults which might intervene in a tight race. Firstly was the guide. This is a typical SCX guide, it slops in all directions! In a magnet race it isn't so crucial as the downforce of the magnet would hold the model in the slot (mostly) even though it might be twisted over to one side. But for non magnet racing, any tilting in this department would see the model use it as an excuse to ride up and slip out of the slot. It wasn't going to be 100% but it needed to be a lot better than it was! The problem with the guides is related to the collar that fixes the self centring spring. This collar pushes in from one side of the chassis whilst the guide comes in from the outside and the clipping action holds both pieces together. Unfortunately, by the time this is achieved, there is a great deal of slop in the guide hole. In the past I have coated these parts with superglue and carefully filed off the excess when it has hardened. It's a bit long winded and is not 100% so I had a think. What was needed was a shim of some kind. As thick as the free play in the guide hole and very narrow to allow it to sit in the return plate recess. The final solution came in the form of some thin plastic sheet (about 0.010"). I punched the requisite hole in the corner of the sheet then cut around it very closely with some sharp scissors to make a very thin washer. The washer was placed over the return plate and the guide pushed in from the other side. The play was greatly reduced but there was still an appreciable amount. Another shim proved to do the trick and the slop in the guide was reduced to a minimum. While I was at it I replaced the braids with tinned copper, this seems more conductive and doesn't clog as readily as soft copper.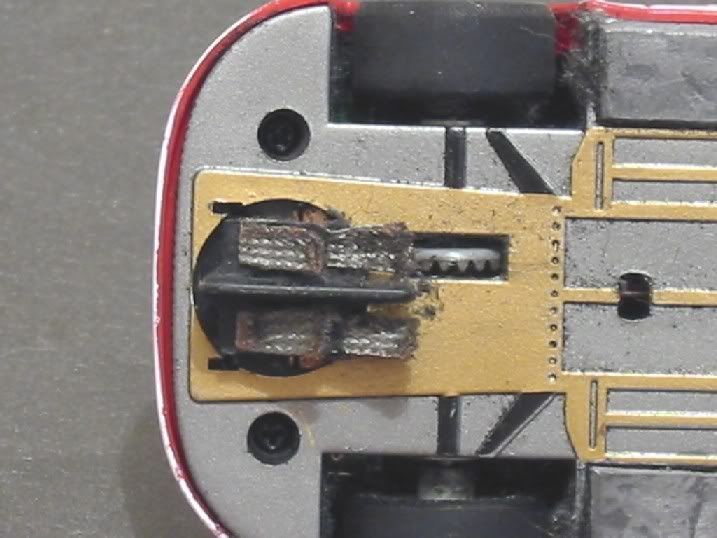 Tinned braids are more important than you think!




Next on the agenda was weight. I was looking at getting the model up to about 95 grams. A weight limit had been set in the rules but I'm sure there were very few models which were under it. Ten grams was going to be distributed about the model. My first choice was two strips, inside, along either side of the motor. Lastly was the requirement to have the body floating on the chassis unimpeded. This was achieved by firstly bending upwards the tags which power the lights. I didn't see anything about working lights in the rules so, although these were left in (as ballast) I repositioned the tags to allow the body to roll a little easier. Finally, the screw holes in the chassis were taken out with a small round file so the body would float freely rather than be notchy and catch on the exposed screw threads. The screws were backed off to give about two mm play at the rear and about one to one and a half mm at the front. Lastly, I fitted a new set of MJK tyres all round. I was fortunate to be able to run the model at a friends Carrera track in that week as the race venue was at a prohibitive distance from home. After running the model for some time I managed to get the times down a whole second a lap compared to previous runs. The only thing of concern was the model's tendency to go up on two wheels when pushed really hard through a bend. But I could control this by driving carefully.

So, the time had come. Tuesday night. I travelled from work (boiler maker/fabricator) and was racing in my work clobber. No one seemed to mind so that was fine. I took the model out for a few spins and was generally pleased with it. Without giving the game away I could comfortably stay with the guys who I was expecting to have problems with. Not to worry, but practice is one thing and racing is another. Eventually the race was called and the heats started to roll. Lap times were in the 8.2's and there were two or three guys to watch out for. Eventually I was due on track. The Trackmate system has some flaws in it and when it comes to racing it does do you favours and then it doesn't! Well, it did me a favour for openers. It had split the field into two large groups and was cycling them across all lanes. The group I was in wasn't too much of a threat and as a consequence I had an easy run to the flag in each of my heats. Race two was a different matter. The program lined up all the drivers from most to least wins and I was at the top with all the hottest drivers in my heats. This was it.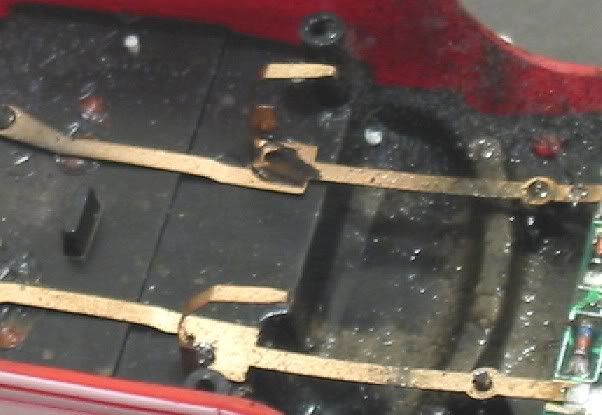 The bent up light tags.





The track has some hard lanes and some easy ones and I soon realised it was no use trying to win in a hard lane. The strategy had to be to stay on, whatever. After all, the rest of the guys would have to race the hard lanes too, so it was important that I did my best job in those difficult lanes and hope it was a better job than the others would do. The following heats were hard fought and it was down to deslots deciding race position. Fortunately, I deslotted very little and faster models were handicapped by their instability or pure driver enthusiasm! But I was disappointed that I was noticeably down on speed. I was expecting to be a little slower but was also expecting to make it up in the corners. The model also started to lift onto its two outside wheels too, causing unwanted deslots. As it was, we finished the evenings racing and I managed a tie first place with one of the young guns. Lucas was always going to be the challenge and as we shared wins in the second race I breathed a sigh of relief after seeing the results, knowing I had done well for a model I was still developing. Race one had lulled me into a false sense of wellbeing and it wasn't going to happen again!

At home that week I looked hard at the model. Tipping in corners and down on speed, was this to end up a two wheel driver?? No. it handled impeccably in corners, passing on the outside. It just upped on two wheels on the tight inners. Solution??? I decided to treat the straight line speed first. This I did by boring a sixteenth hole in the bell housing of the motor. This allowed me to put the smallest of drops of 'Voodoo' juice on the com before each heat. I was already treating the braids but I felt that maybe the motor brushes weren't seated properly and could do with some help. As for the tyres, I noticed the outer edges had developed a sharp shoulder on them, probably from a lot of track time on my friends Carrera track. What to do? I decided to sand the edges and give that a go.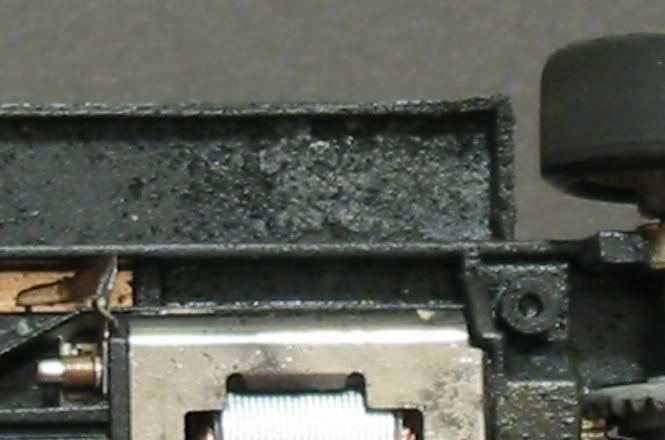 The original ballast position





The following fortnight saw us all together again. There had been a few drop outs; non magnet racing was taking its toll of the less talented. Some locals with regular access to the track had obviously been doing their homework and their models were now pushing the eight second barrier. On marshalling some of them I'm sure they must have had half a kilo of lead in them!! My turn came round and this time I was racing a good mixed field and there were going to be challenges from the start. Racing started and I was getting away well and holding my own. Opposition was still tough and the opening round saw the heats pass by with moderate success. The model was still marginally down on speed but a smear of Voodoo drops saw it run sweetly and its straight line speed made up for its tendency to tail out in the corners?? But it was going faster. 7.9's were now being clocked, the trouble was the others were doing them too and it was still a case of steady as you go! Finally, at the end of the evening, I cam home about third but only buy a lap or so after three hundred laps racing. And it was accumulated laps that the computer was going by!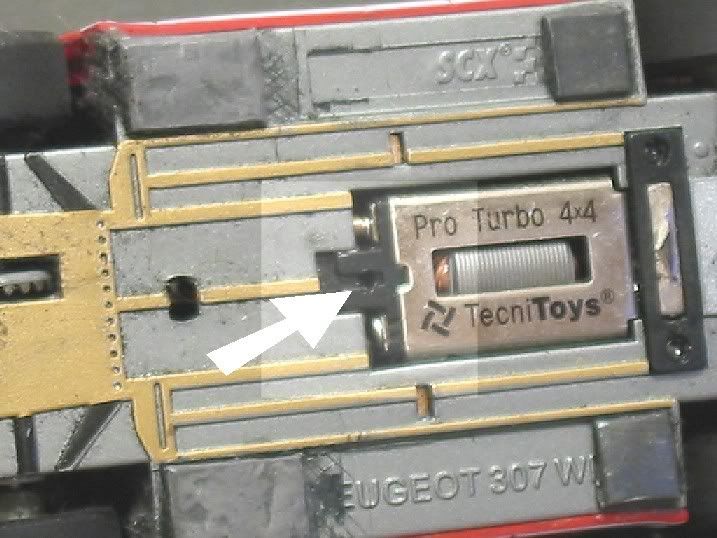 Hole for treating the com.





Once again at home I was still pondering the mysterious sliding Pug 307. The model had gone from too much grip to not enough on the same tyres? The urethane tyres have a skin on them which is very grippy, but once through this in a non magnet situation on the smooth Carrera track, the tyres seems to loose their original grip and the tyres then slide a bit more than expected. I decide to take a gamble. A lot of my lower powered models for board track racing have the SCX type seven tyres on them. Out of the packet they are a bit ordinary but once they have had several treatments of Shellite (lighter fuel) they seem to get grippier. Perhaps they were the solution. So into round three I went with MJK Urethane tyres on the front and SCX type sevens on the rear, suitably sanded and treated and with a shallow bevel on the outer edges. The MJK's were slightly larger than the type sevens and this worked to my advantage in that the front wheels were constantly overdriving at the front causing the model to be pulled considerably and not relying totally on the rears to do all the work. Round three saw a great improvement in the model and although it still had a tendency to cock a leg in a hard tight corner, the model was now flying on the straights and acceleration through the sweepers was almost flat out. It gave me an opportunity to drive the model more relaxed and not to be on the edge. This itself allowed me to go several heats without a deslot and even take wins on the more difficult lanes. So, a good evening and probably a degree of complacency creeping in. Dangerous. The other top guys were getting smoother and smoother too. It only needed one of them to be drawn in a 'soft' group and I would have it all to do.

During the two weeks break, rather than accept the status quo, I looked around the model for any slight alteration I could make. The model still stood up on two wheels slightly in hard hit inner bends but everything else was fine. I just needed to reduce the risk of tight corner deslots and in doing so, increase my corner entry and exit speeds. My last mod was an obvious one and one I should have done at the beginning. The ballast inside was split and about six grams was moved forward and the remainder moved back. Not only this, the ballast was refixed UNDER the model, not inside!! I use old roof flashing lead as it is quite thin and is easily cut to shapes if you need to. I had previously had the weight in the outside channels of the chassis INSIDE the model. By splitting the weight up I could apply more weight over the front and rear axles without physically increasing the weight and by fitting it UNDER the model I could lower the centre of gravity and hopefully reduce the likelihood of the dreaded tipping which had already been partly cured.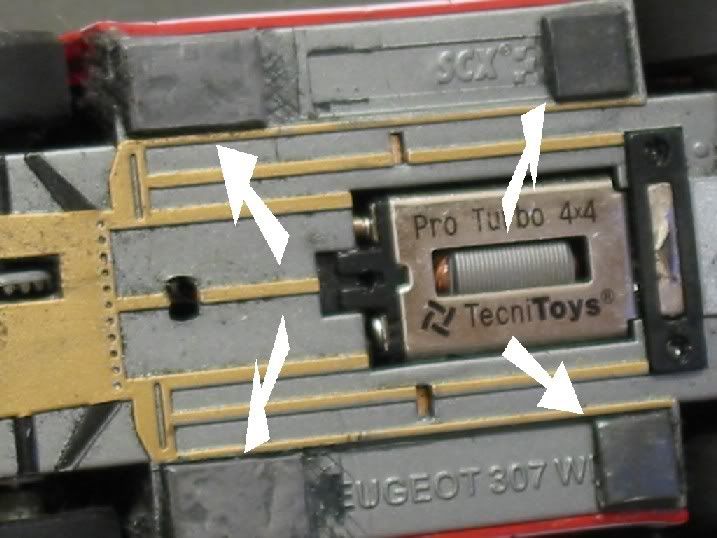 Ballast location.





Next meeting was definitive as the model was now flying. One heat saw me trail off the start behind a new SCX PRO Xsara!! I stayed with the young guy for about five laps sitting four or five inches behind him. I was comfortably racing a potentially quicker car and to pass and stay in front would require me to pass out of my comfort zone and race on the edge. The tactic was to sit behind him until he deslotted then romp off into the lead. But after five or so laps he was still rock steady lap after lap. With no choice I cranked the pace up a notch and passed him in the more technical part of the track, after which he promptly deslotted. He'd been on the edge after all and lost control whilst trying to match the pace.

For the remainder of the races over the next three weeks, the model was a dream to drive comparatively. Whilst other models were thrashing their tails around in the corners the Pug did its job. Staying with the fast cars until they deslotted and leaving the rest behind. Best lap times eventually fell to 7.7 secs which, for SCX Rally non magnet, was flying!

I don't want to sound too conceited though. I didn't have it all my own way. There was the odd heat I lost miserably for reasons of my own, driver error and the consequences that follow. In some heats victory was snatched away in other's deslot incidents. I even got marshalled when I was still racing. "Two cars on green" yeah, but why take the green car off?? But I really can't complain as we all had our share of anomalies. My worst event was in an early race when the MJK's on the rear decided to come adrift and the rest of the night was spent driving below the danger zone. Another observation was that the track developed more and more grip as the evening went on. I suspect that the surface 'rubbered' up much like board track does, so that by the latter part of the evening the grip was considerably greater. All these things added up to a great series and the fact that I came away the victor was as much due to stealth rather than speed.

I eventually got the Pug to fly. It was commented on by some and at the finish some where surprised by its lightness! Some of the two wheel drive models had a large amount of Bob Jane in them! On more than on occasion a model's race was over when large lumps of lead broke away from their moorings inside the body. Tyres, too, were a problem for others. As the urethane tyres wore down they became slack and would roll off the hubs. Gluing then became the next nightmare. My SCX type sevens behaved admirably. Several good cleans in practice at the start of the night and a quick wipe between heats saw them do their duty against MJK's, Slot.its and Silicones.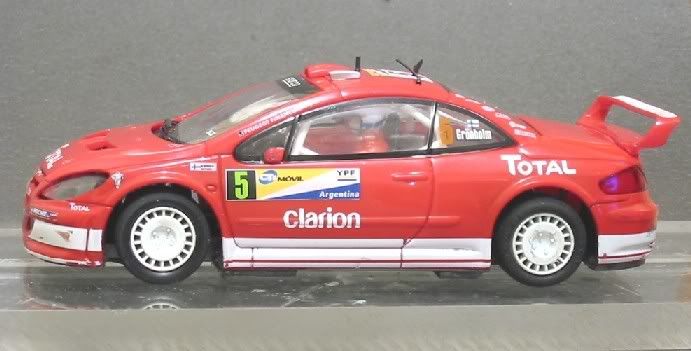 On the set up board, all wheels working and larger tyres to the front.




The biggest effort for me was in race discipline. Being of more advanced years than eighty percent of the entrants it goes without saying that the model needed to compensate for my slower reactions and other senior moments! The rest was down to driver technique. Minimising tail wag at corner exits by throttling back momentarily, knowing how hard to hit a corner. Some corners I would gain a straight and more on others just driving into them. Driving all the lanes in practice and identifying the tricky bits of each lane. Knowing when someone else is fast and not trying to race them! If you are driving flat out and someone passes you, you have to let them go and not try and race them or it will end in tears! And knowing the black spots. If you are coming up on a slower driver, don't try to drive round them in a slow corner, you will probably spook them when they see you coming and they are likely to deslot, taking you with them. Sit half a straight behind and let them get round the corner or deslot first, then pull out the stops before the next obstacle. And lastly, keep an eye on the track ahead. It is possible; it will reduce the risk of you driving into an incident and save you more time. If you have to stop, stop a little further back, don't stop at the accident as the marshalls are likely to pick you up too!! Trying to barge through may well see you deslotted also, and end up being the last back on the track whilst your competitors have driven past. Patience is a virtue!

So, a lot to take on board, a fast car is struggling without a fast driver and a fast driver is struggling without a fast car. If you are going to throw money at the hobby thinking it will bring results then you have to look at it from another angle. The first choice is the model choice. Picking a car because it appeals to you could be the first mistake. Things to look for are low flat models with good axle width and a tyre diameter of 20 to 21mm. Models which end very soon after the back axle, models that feel sturdy in mass and lastly models which others are winning with. All the other stuff can be remedied fairly easily. There are a selection of controllers on the market. The basic single resistor types and the super duper all singing, all dancing diode and transistor models at $200.00 plus. These do work for most people but what they promise is delivered in various degrees to a variety of people. These are not wonder tools, they simply compensate for any deficiencies in your own 'feel' of the track and your car. Their main advantage is that you can 'tune' them to a variety of models instead of having a selection of controllers. This isn't going to help you win. They cause you to have a lazy driver's technique and the next time you race at a track with 'house' controllers you will immediately be behind the eight ball as you have learnt to walk with a crutch. The time will come when you realise you can't walk without it! I ran the Rally non magnet class with a $40.00 Parma economy 15 ohm controller. No bells, no whistles. I kept it lubed and smooth in operation. Some others raced with Professor Motor controllers and were still off the pace! Would they have done any better without them. Hard to say? What would happen when they put their crutches down??

Lastly and most importantly, and a mistake I made on a couple of race nights, is not to waste valuable track time. When you turn up to race, get on the track. Race each lane, they're all different, get your lap smooth and free of bad habits. Get the corners sorted. Drive into and round them til you deslot, you'll know where the limit is then. Brake late into bends 'til you deslot, that's another limit learnt! Know the track inside out on all lanes for the model you intend to race!! This is time well spent and after that, then you can relax before the start.

When I attend social events I like to race models that I have either built or bought. I like to race them to see how they compare to others and mostly, I like the pleasure of driving a wide variety of models, win or invariably lose. It's no longer important for me to win every time I put a model on the track. Indeed, I'm a firm believer that time spent racing difficult models is time well spent. It teaches me how to control models 'on the edge'. A skill required when competing head to head at the front of the pack. It teaches me patience, a skill required if you fall behind and have got to spend ten laps catching up! And it teaches me to be moderate amongst excess. If you go into every race expecting to win then you will soon be disappointed. Social racing is an opportunity to race with and amongst friends, win or lose. Competition is a different beast; it is a time when all the things learnt outside of competition come together, track skills, model set up and tactics. If you are short on any of these then racing slotcars will be a love hate relationship with yourself and others.