.
.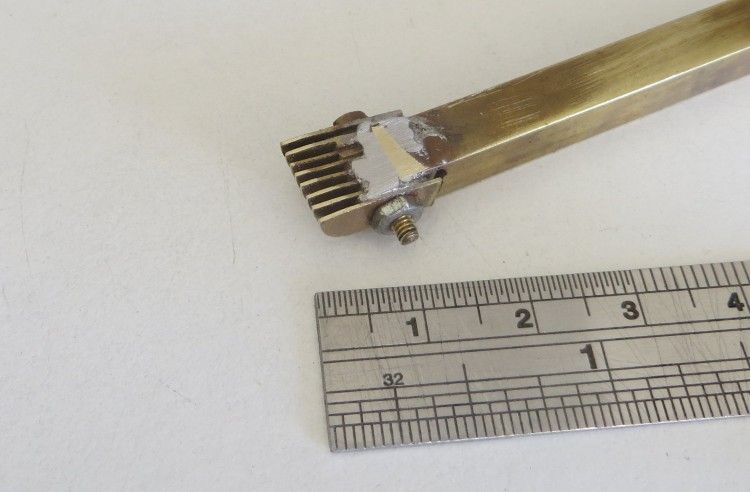 Not sure if I am preaching to the converted here or if I am repeating myself, but some of you will know and understand the fixation I have with front end drag. No, not a clothes fetish but a very real by product of fixed front axles.
On model cars there is a negative effect from the font wheels and tyres being fixed solidly to the font axle called drag. This is the process whereby a model's cornering is affected by the inability of both front tyres to turn independently and at different speed. This is caused by the outer wheel of a rigid front end needing to turn faster than the inner as it has farther to travel.
This phenomenon manifests itself as unpredictable rear end hop, or excessive oversteer in a corner, or 'fishtailing' when exiting a corner. The problem will be more significant in non magnet racers.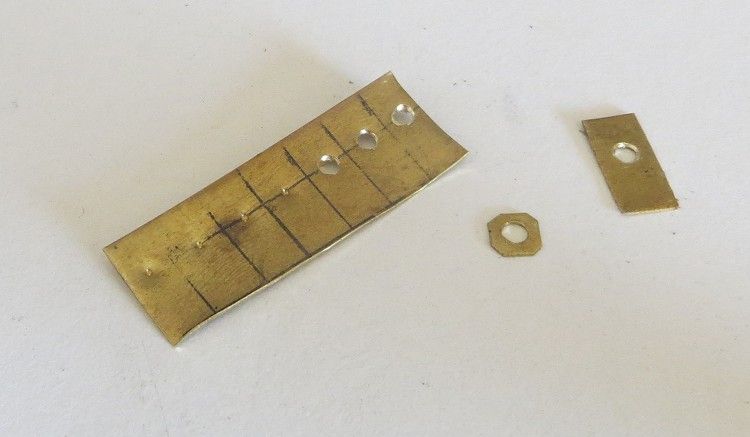 In magnet racing the model can be seen to 'bog down' i.e. slow noticeably, especially in tighter bends. This becomes self evident if the magnet racer is tested with its front tyres removed. If there is a marked improvement in cornering and handling then the model is almost certainly suffering from lack of front axle differential, i.e. the lack of ability for the front wheels to rotate independently of each other. Another simple test is to drive the models (mag and non mag) at a moderate steady pace and a steady throttle around the track you are using. Any sign of slowing in corners is the front end dragging through the corner, and testing with tyres removed will quickly highlight the problem.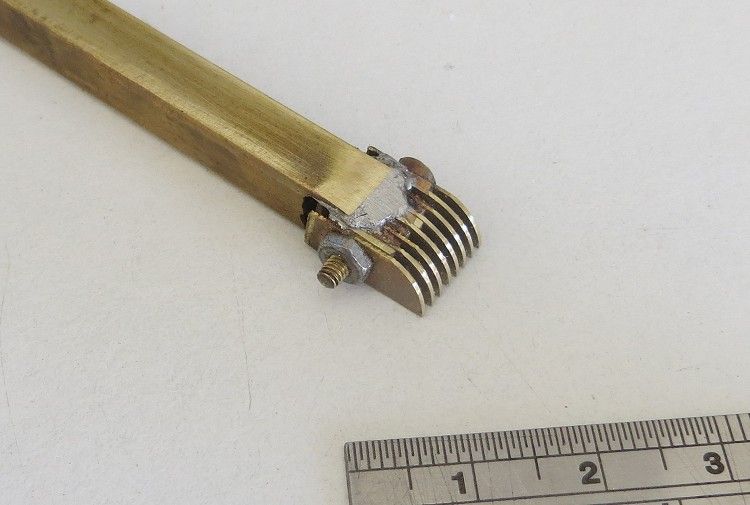 Front end drag is not the only issue caused by a non separated front axle. Another issue is tyre side slip. Pushing a model slowly round a bend will show that on non steering models, the tyres actually slide at about 45° to the direction of travel. The real solution to this is a steering front end, this will solve both issues, but steerable front ends are not the easiest to make or fit. Some models come ready equipped, like F1's particularly, simply because their wheels are not confined under wheel wells which then introduces other issues. Another side product of fixed wheels is the errant front or rear wheel. In magnetic racing especially, there is a high twisting force from one direction to the other as the model goes firstly around one handed bend, and then around the opposite hand. And, just as if you had been holding the axle and twisting it in alternate direction, the wheel will eventually work loose, only to leave the model at some critical juncture!
Other solutions include painting the tread area of a tyre with superglue, nail polish or other similar product. The drawback here is that depending on what track surface you are racing on, the coating will need to be regularly applied as it does wear off quickly especially on abrasive paint (Ferrodor, Sandtex etc.) based tracks, it also makes the model very noisy. Another option is to try one of the new formula 'hard' tyres which several manufacturers are now producing. But beware, I tried a tyre rated as a hard front on the rear of a model recently and found my lap times to be almost comparable with the original urethane rears!!!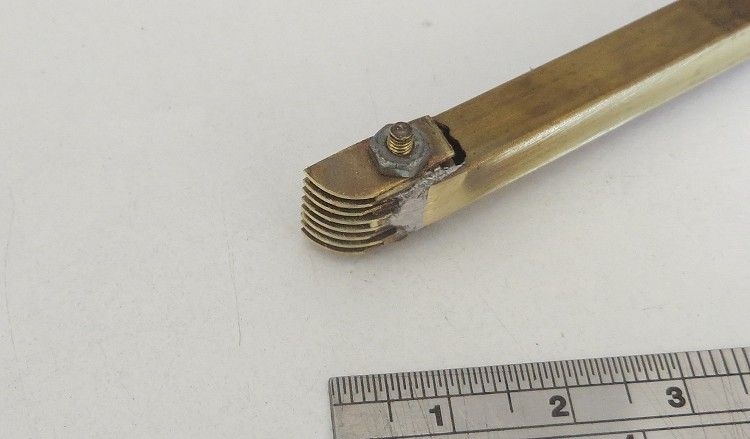 So why do we bother with some fixes, well, it is all about 'tenths, i.e. the time you gain or loose per lap if you haven't addressed the issue. Tyres are the most critical part of a slotcar and to be a tenth slower per lap is to be five seconds behind on a fifty lap race. Some models are not so sensitive to front end drag. These are usually the wide flat footprinted models which have an axle width of 50 m.m. or more. These models are more likely to run with the front tyres barely touching the track. A pity really as by saving drag generated by a live axle, they are creating drag at the guide braids. Eliminating drag comes into its own on the narrower models, Rally, Sedans, Classic Sports cars, Touring cars, Trans Am's, Historic GP etc, which require the forth wheel firmly in contact with the track for corner stability.
Another solution is to create a tyre of minimum friction. This is done by 'retreading' a hard or an old pre used tyre. Some of you may remember I produced a retreading 'comb' from some ¾" brass some years back, it has been in regular use, but because it was made 'by eye' it left odd sized grooves and tyre 'land' on the tyre, so, with time on my hands I have eventually got round to making the MKll, and this is how I did it….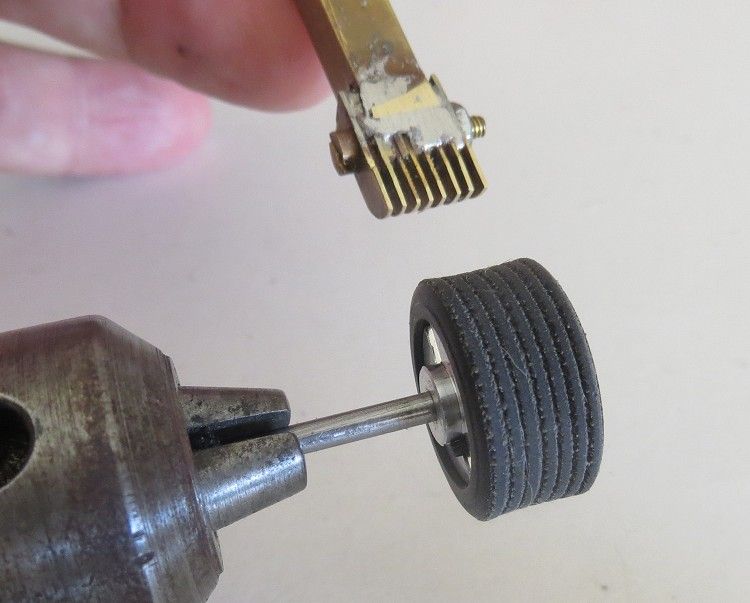 The number of teeth were calculated based on a 10 m.m. wide tyre tread area. Teeth were made from 0.5 m.m. brass and the spacers between the teeth were 0.7 m.m.. The teeth were marked on a piece of 0.5 m.m. brass, holes were drilled and cleaned, then the teeth were cut off. Next the teeth and spacers were slid alternately along a selected brass bolt. Once all together the bolt was nipped up and the teeth straightened and aligned in a hobby vice. Once aligned the rear end of the teeth were soldered together with a 100 w. soldering iron. The handle was a piece of 6.0 m.m. square brass tube which was soldered to two side of the tool. The tool was then shaped on a bench grinder and the teeth cleaned up to give it it its final shape.
If you have a hobby lathe then it is a simple task to mount an alloy wheel to a straight axle and in turn fix the axle into a lathe chuck. For the rest of us it is a bit harder to mount the axle in a drill chuck and then mount the drill in a vice! Which ever way chosen, the tyre is ready for treading. First up the tyre tread area is sanded flat. Once this is achieved the tool is brought lightly to bear against the rotating tyre (± 1,000 rpm). The tool will remove rubber slowly so don't rush the process and check the ribs regularly. Remember there is only so much rubber you can remove. A quick peep at the tyre sidewall will tell you how far you can go. If you go too far you will shred the tyre!