.
.
F1 GP rear view mirror repairs
Mark Coulthard
Dear Readers,
My slot car collection is quite small; however, the SCX F1 cars are my favourites – including the SCX Arrows (6902_A), SCX Minardi (6902_B), SCX McLaren MP4/16 (David 6087) and SCX Ferrari (Michael 6173). I have 25 metres of classic Scalextric/SCX track, which is mostly second hand and reconditioned. The SCX cars (and my only Ninco Minardi MO1) negotiate my layout with the least de-slotting usually in a time of 11–12 seconds, sometimes under 11 seconds if I have a perfect lap.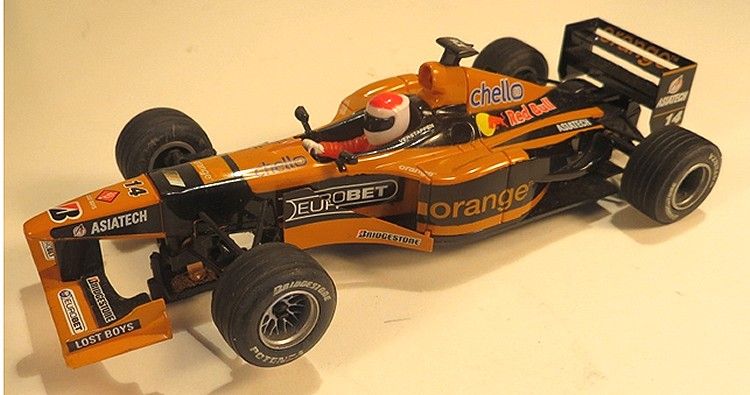 Arrows-F1 (Verstappen) with intact mirrors to compare with SCX Arrows-F1 (de la Rosa) with the repaired mirrors.
The stability of the SCX cars is probably attributable to the steerable front wheels, which produce low drag and sideslip in turns, and the strong adjustable magnet, which creates more than adequate downforce. My Scalextric and Fly F1 cars, not having these features, are much less stable so tend to stay on the shelf. However, the SCX cars do have occasional crashes and I have recently lost wing mirrors from both the Minardi and Arrows and, being somewhat of a perfectionist, a slot car without mirrors isn't quite the same. Unfortunately, unlike Mr. Scalextric, SCX do not have a ready supply of spare parts, specifically wing mirrors (or more correctly rearview mirrors).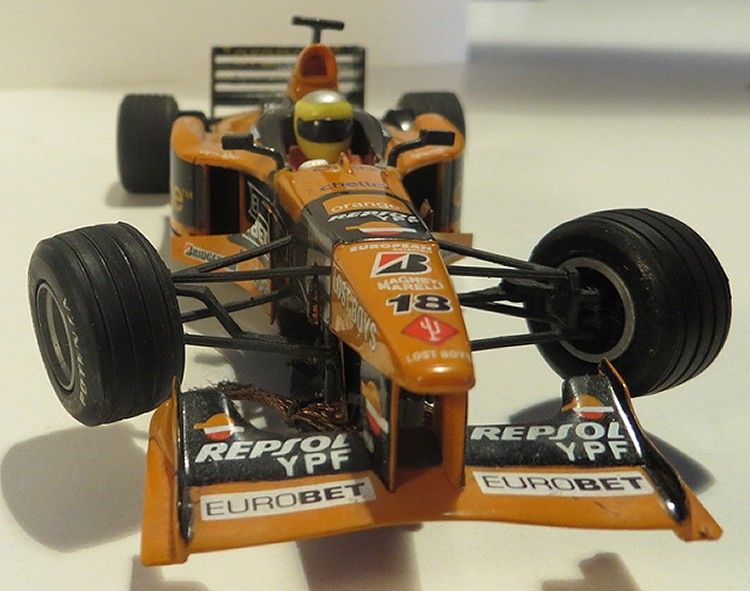 Fortunately, I visited my friend, Phil Wicks, and he came up with this solution. I arrived with a SCX Minardi, SCX Arrows and Ninco Minardi (No.20) MO1 (Marc Gené), all with broken wing mirrors. I also had several pairs of mirrors purchased from Greenhills Garages (
http://greenhillsgarages.co.uk
). I had also browsed the Scalextric Car Restorations (
http://www.scalextric-car.co.uk
) site for spares. The collection of mirrors was reviewed and we decided (email discussion) that the plain black mirrors from the Scalextric C139 – Brabham BT49B Parmalat No 5, although not a perfect match, would be suitable. I recently browsed the Armchair Racer website (
http://www.armchairracer.com.au
) and located the C139 Brabham Parmalat mirrors there too. I have included a photo of SCX
Procedure: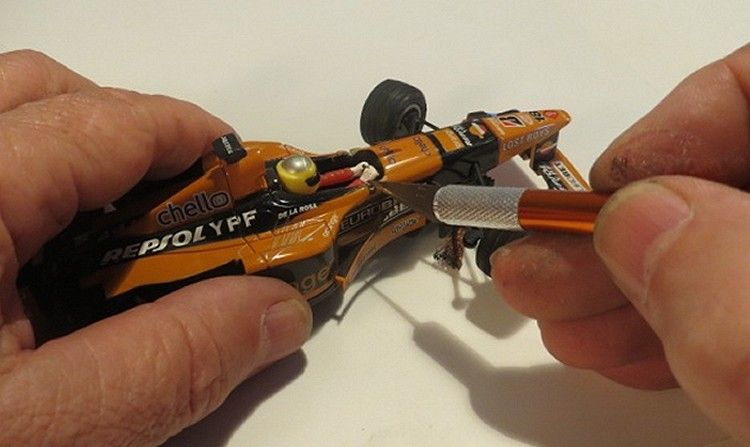 1. A sharp hobby knife was used to cut off the remaining wing mirrors (very brave) and remove all the glue from previous repairs
2. 500-grade sandpaper was used to remove any remaining glue residue
3. In the position of the mirror, a small V-shape notch was cut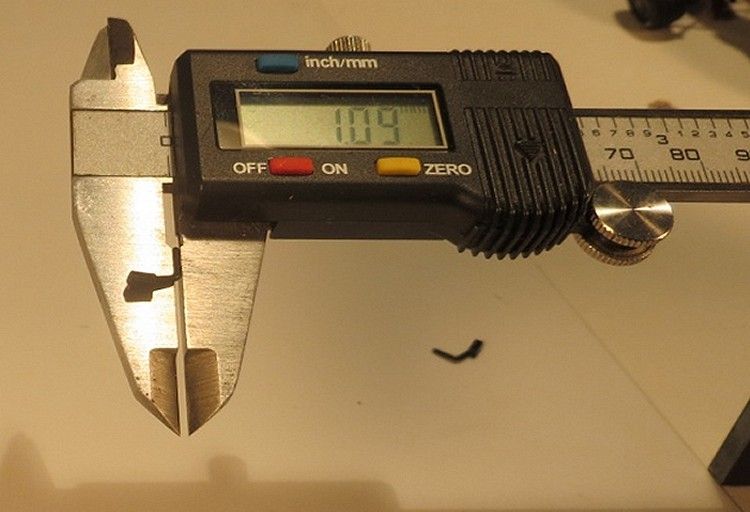 4. The diameter of the wing mirrors was measured with a digital calliper
5. An appropriate drill was chosen from a pin vise set = 1.09 mm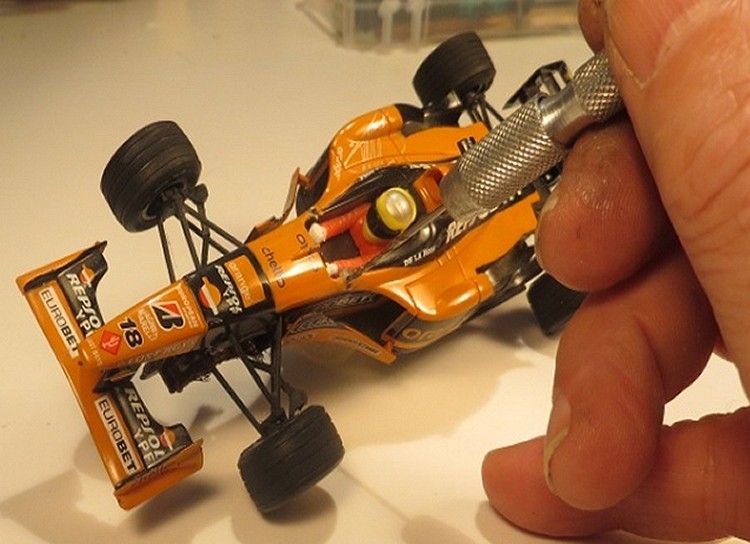 6. A hole was drilled into the apex of the V-shaped notch
7. The fit of the mirrors was checked.
The pin vise set is available at hobby shops, and digital callipers are readily available at Supercheap Auto (or similar) for a reasonable price ($39.99).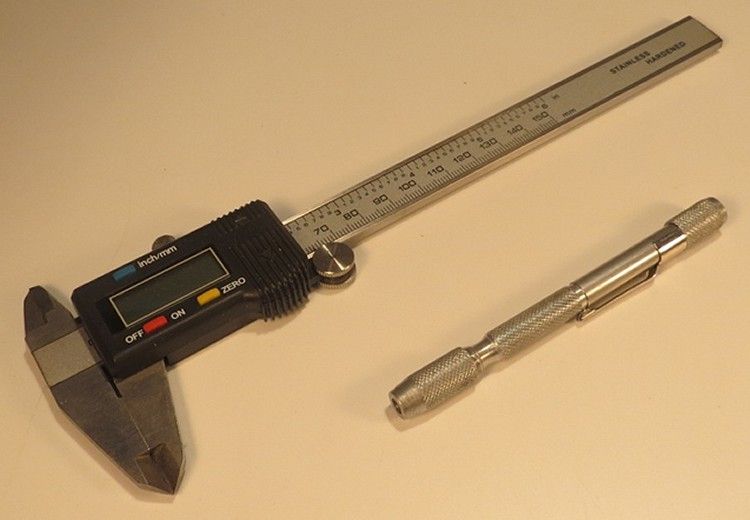 The mirrors can be painted to match the original – I used silver nail polish for the mirror with excellent results! Of course, if there is serious racing then the mirrors can be removed and we know that there is a supply of spare mirrors at a small price at Greenhills Garages, Scalextric Car Restorations or Armchair Racer.
I am very relieved now that I have found a solution to a problem – broken wing mirrors of SCX cars – that has bothered me for years.
Regards
Mark Coulthard & Phil Wicks
Brisbane.