More and more people find the need to connect their computers to their tracks. While a lot of people run makers race management systems or even simple lap counters, more and more hobbyist want a bit more from their systems. So what do you need. First up you need a computer and on that computer the race program of your choice. It gets harder when you want to connect the computer to the track. The simplest method is to have some light or infra red sensors let into the track and a light source overhead. This is then connected to the port recommended by the program maker and functions as a basic lap counter.
One step further is to have start lights. Again a fairly easy process and something the average person can do. But if you are an avid racer, or even part of the club racing circuit, you might want to expand the system to track relays. These will control track power to each lane and are part of the starting and finishing sequences. But this can be a little harder. Because of the voltages involved, track power needs to be controlled by relays, and relays need low voltage control.
The system which we have been using in Brisbane for quite a while now is track lane power relays controlled by an 18 pin Darlington transistor switching package. The chip is controlled by the computer program and the chip in turn controls the relays. The chip is also used to run a set of countdown start lights. Simple enough for those even with the basic of electronic knowledge, and all parts are available from Jaycar. The timing sensors still go direct to the computer but are routed through the same plug.
Note this board has four relay bypass switches (at the top), on some programs you will not get track power if the computer is not booted up. This allows a quick lane power option if you just want to spend a little while testing.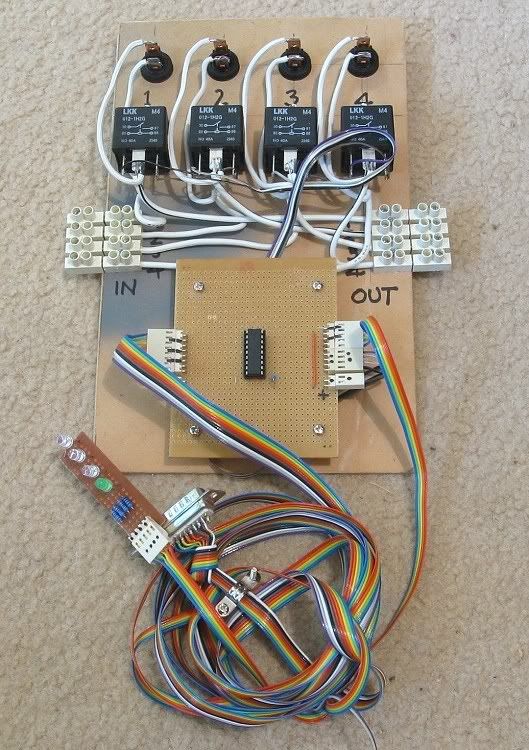 Now, I wonder who this one is for? Mmmmmmmm?