Ninco Subaru WRX
'Tuning'


Search as I might I can not find detail of this model as a 1 to 1 on the internet, which leads me to suspect that it may well be a fantasy livery? But that aside, all other detail is real enough, the Model is of the Subaru WRX Circa 2006 and the decals are also very real representations of such prominent companies such as Snap-on Sparco, Kenwood, Alpine and others. And the main sponsor is ORC (Ogura Racing Clutch), a Japanese company who specialise in multiplate clutches for racing




Ogura Racing Clutch




So, where do we go from here? As mentioned, after spending several hours on the internet I can find very little direct reference to this model, with most searches relating to ORC, so without further ado we will by pass some of my more traditional meanderings and go straigh to the model.








I was looking for a Ninco WRX to fulfil a current racing task and was hoping to get hold of a good old Ninco blue WRX from several years ago, the only problem was that people who owned them had different ideas to me about their worth. With most models being half a world away the cost of added freight was pushing models close to the Au$100 mark landed to my door, and already having accumulated the Scalextric, SCX and earlier Ninco variations over the years I didn't specifically want a model which may end up on the shelf along side its predecessors. This one has a job to do and might well be the worse for wear several years from now!









As it happened I had already put the word out via the 'Outhouse' that I was looking for a WRX and friend and fellow racer Rhys mailed me to say he could get one from the US in my price range, and sure enough, a few weeks later I had the little beauty in my hands then onto the work table for a heart transplant. A few hot laps, a bit of tyre truing and some ballast later and the model was literally flying beyond expectations!!








So where does this come in? Well I saw one on an international website, maybe Topslots....or maybe Cincy slots? any way, our paths kept crossing and the more I saw it the more intrigued I became, until, unable to restrain myself, I purchased the model from shear curiosity. Curious as to what the livery was, and curious as to what Ninco had done to the 'Tuning – Style' model. Soon enough the model was on the study desk, a fresh bottle of 'Wicks Shiraz ' had been opened and once a glass full had been suitably decanted, I sat down to see what my impetuosity had bought! Mmmmmmmm............








Out of the box it is certainly a striking livery, not one of these modern liveries where reds and greens and blues and yellows are all mixed higgledy piggledy to affront the senses, but a very pleasant somewhat relaxing mixture of gold and white, always a good combination. Tasteful little moments around the model also cause the corner of the lips to curl; and chrome wheels!!! I'm not a chrome wheel lover, but I have no issues with this model.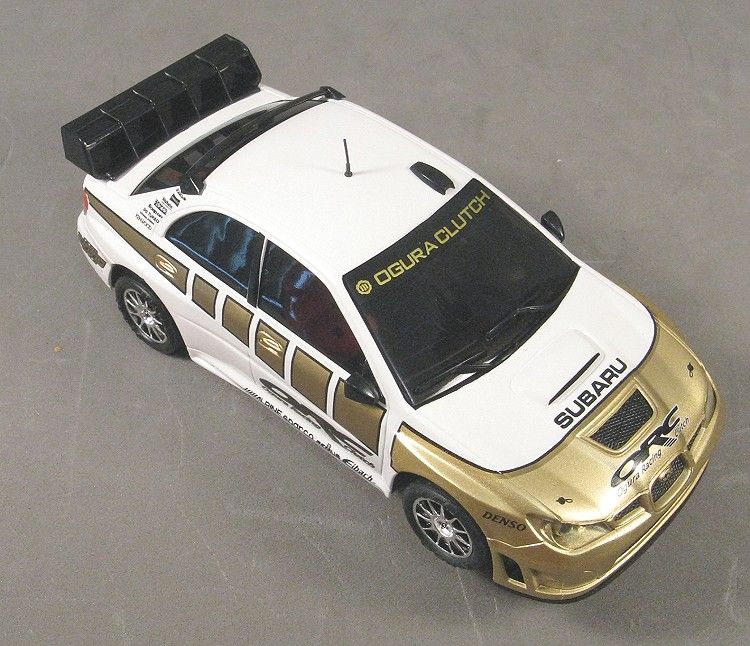 The clear parts are very dark and at first glance it looks like this is a super resistant' type of model, but, sure enough there is a three quarter drivers tray in the model and a very relaxed looking gentleman in control, sans racing suit and helmet, telling me this is for road use! Other small but pleasant points are the small fittings around the model without which, the model would be a little plainer.








One thing I did notice almost immediately is that this model does not have a glossy clear lacquer top coat? which means it would soon pick up permanent reminders of every racing stouch it would be involved in? Curious?

Underneath reveals the power house for this model, but not as powerful as I might have expected seeing this is a 'tuning' model. The motor is the Ninco NC 6 Crusher, wrapper boldly proclaiming its performance at 23,500 rpm. But this is at 14.8 volts!! At a humble 12 volts the reality is that the best you could expect from the motor is a moderate 19,000 rpm, even some SCX motors come standard at this speed. But it does have a substantial 350 grams per centimetre torque! ranking it just above the Slot.it MN08 Boxer motors. This is one of the highest specs I have seen in a home racing model, so what does that mean?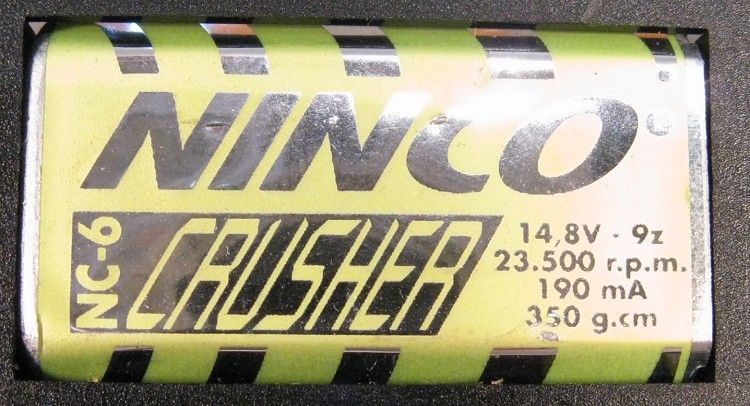 In simple terms the torque of any motor or engine is its turning power, the strength it has to actually turn an object attached to its output shaft. The more torque a motor has the greater ability it has to accelerate from a standing start if it can be harnessed, it also increases the motors ability to turn or move more weight or overcome greater resistance to movement. i.e. gear ratios. Put simply, there is the potential for this motor to run with higher gear ratios. Most home racing models come with a drive reduction of about 3 : 1 (9 : 27) The motor turns three times to the back axle's once. Combined with the drive wheel diameter this will determine the model's top speed for a given voltage (and to a degree, its acceleration and braking).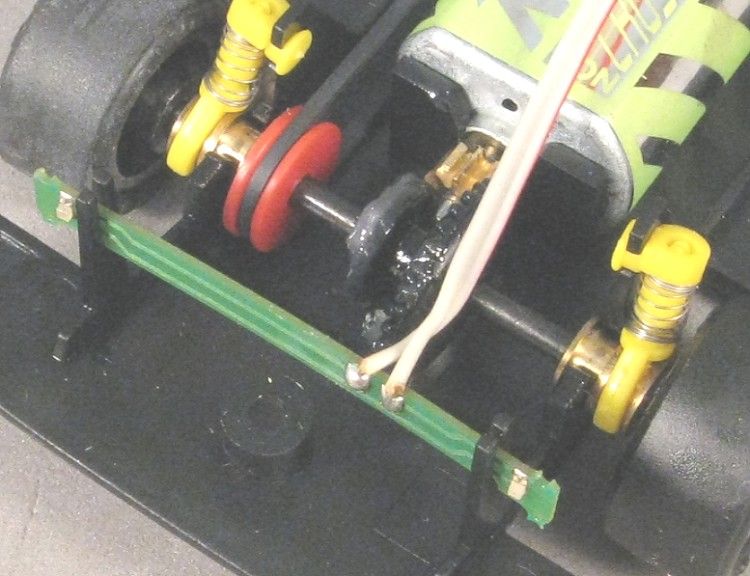 Now, imagine that the gear ratio is reduced to 2.45 : 1 (11 : 27) This will increase the models top speed by as much as 15% but because the motor has a high torque (turning moment), the acceleration and braking will be far less affected than a motor of half it's torque (the majority of 'S' cans are about 160 – 180 g/cm!) and therefore, the advantage increases the more technical a track becomes. In short and in reality, this model may well be greatly overpowered for the average home / club track! but with re-gearing would be more at home on the larger slotshop tracks. Another downer is that it draws 190 milliamps on acceleration, this no doubt is an unloaded reading. What it tells me is that with two of these models running on a 'wall wart' type power supply, the models may well become a little sluggish, and when one model deslots or stops, the other may well tear off into the sunset due to power surge........








But back to the model, and on opening it up there is a lot of similarities to other Ninco Subarus. The drive layout is the same, and that accursed drive band is still as sloppy as ever and as ineffective as ever. If like me you like to drive 4WD models then a trip to the 'O' ring shop will be required to purchase an 'O' ring a few centimetres shorter. The option is for the band to come off and tangle around other moving parts just at a critical juncture, trust me....it happens! The third option is to remove it completely!








The first and most immediate change is that the model has lights... truly! I might have been living under a stone but this is the first Ninco model I have seen with lights! that I can recall. The lights are quite effective too. Ninco have gone to lengths to ensure light bleed is kept to a minimum, they have even fitted a screen in the front of the model to diffuse any extraneous light. While at the back the led's fit into the rear inner panel. One issue here when removing and refitting the body is that the rear light board becomes annoyingly dislodged very easily both ways! The solution? Maybe a spot of superglue on the brackets, but I think that would be a bit drastic. Maybe it's best not to keep removing the body for whatever reason. The good point about the lights is the light they throw! They are basic 3 m.m. LED's but they throw a definitive beam out the front and its interesting to see the model throw its beam on the landscaping as the model passes, Mmmmmm.....little things!








As opposed to earlier WRX's this model has suspension and although it is a bit bound up and vague, it seams a nice touch to a nice model. Not necessary on all but the most uneven of tracks, but then again, if you own older Ninco track, it might be an advantage! Along with this is the usual sparseness of the inside of a Ninco model, combined with plenty of space for alterations if you feel inclined.








On the track it goes well and the wheels and tyres will need a little truing as they seem to me to be a bit out of shape. If there is a temptation to run this model then I would be inclined to true and glue and fix up a small list of annoyances before putting it on the track. If you don't, the model will be a little more unmanageable and prone to deslotting...and in turn, more and more of the detail will be sacrificed to track incidents.







From a rally racer's point this model is heads and shoulders above lots of its competitors as far as non magnet racing is concerned. The little button magnet is ineffective on most track when it comes to competition, but the upside is that Ninco for some years now have been prone to 'pumping out' the width dimensions of their models, and this model is no exception. Compared to several other makes it is a few millimetres wider, including the axle width! And on a good grippy surface it should be able to use that feature to its advantage.









I now have three Ninco Subaru WRX's. One for non magnet open motor racing. One for NC1 (NC8) racing, and this one for the odd outing and the shelf. Is that too many? Never!