Ninco BMW
GTR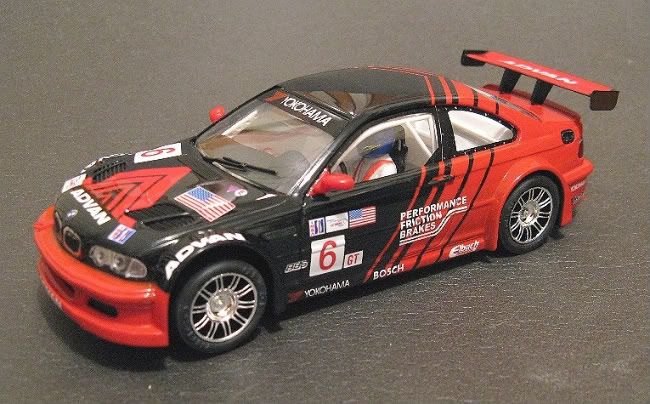 By

Phil Wicks





I'm not quite sure exactly what prompted me to buy this particular model. I was on a mission and in my local slot shop looking for something that I could compete in Le Mans Modern and after giving the Mosler and several other prime candidates the brush off this rather contrasting colour scheme caught my eye as it languished in the corner of the display case. Funnily enough, I have had one of these before but it became surplus to requirements and so was moved on in true eBay manor. I don't even remember what I got for it!

Anyhow, I was looking for a GT1 or similar and being unlucky I decided that in the absence of a better candidate I would give this one a go. I don't remember too much about the previous one except that it was quick and fairly well behaved on a board track. Say no more! I handed over the hard earned mazoola and along with some MJK Urethane tyres, I withdrew to the car park and thence home. I had a couple of other projects on that day and after spending some time with them I moved on to the Bimmer and started the strip down.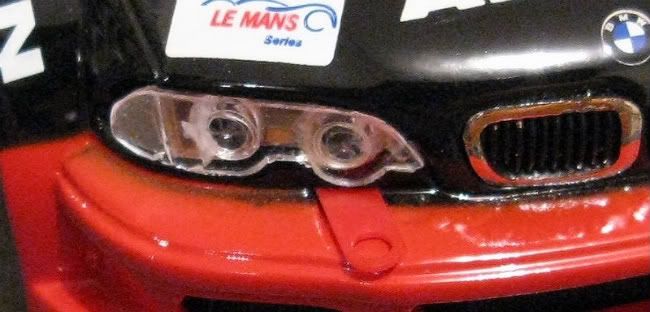 First up was the usual look round just to see if it was going to endear itself to me! The paint scheme is very attractive (to me) and quite striking and unlike anything we tend to see. The red and black contrast called out to me! I only hope it still keeps calling in the dark and distant corners of various tracks! Closer up revealed a different truth. The paintwork was far from one of Ninco's best. There was unforgivable overlapping spray to the front of the model. So pronounced and quite inexcusable. Also, where the chevrons overlap on the roof, there is a distinctive change in texture and consequently finish, where the red and black are overlayered! Another disappointment was the front grille and headlights. These are reminiscent of the seventies Scalextric offerings where the base plastic was visible behind the lenses and the lenses themselves were a poor fit and cheep looking.

Moving round the model I notice also that the door mirrors, which are normally removed from my competition models, are finished in plain red plastic and look like the mirrors of a fifty cent construction kit! Other detail like the chrome anodised wheels are a brighter moment in a string of disappointments but these too had a sting in their tail which was to catch me out later! The boot spoiler was a largish structure and likewise, this is a potential statistic in the heat of a race and it too was duly coaxed from the back of the model to be removed for competition. The windows creak quite severely too but hopefully this will be less obvious on the track. Finally, at the back of the model, the tail lamp clusters were pretty ordinary and of average construction and finish.

Most of the tampo and other detail was good and it seemed to be a bad let down to have such glaring faults on a model of this price. Lastly, even though this model came with its crystal case seals intact, it had a noticeable scratch in the clear coat on the roof top, much as if it had been slid along on its roof at some time!! Fortunately, some Tamiya fine polish, normally reserved for running in gears!! was applied with a damp cotton bud and the resultant was polished with a soft cloth. This fortunately had the effect of removing most of the visual effect of the roof scratch and the model was half OK once again. I get the feeling that the model was a half hearted effort by someone somewhere and being yet another relivery of a well used mould, the novelty had long since vanished and the model was just another to get out of the door?









I can understand that Ninco still manufacture these models in Spain and the labour and materials element of the model's price may well be greater than similar Chinese models, and as a cost cutting exercise some commonplace features like working lights etc. have to be left off to keep the price realistic but! the poor reproduction and finish of detail in general is not befitting a modern slotcar and as a consequence, this model may well never make it to shelf queen status. It will be destined to race and once it has finished that duty at some time in the future, it may well be consigned to eBay along with its predecessor! Disappointing, but the truth. It will be kept as a racer and may well never grace the shelves of the display cabinets!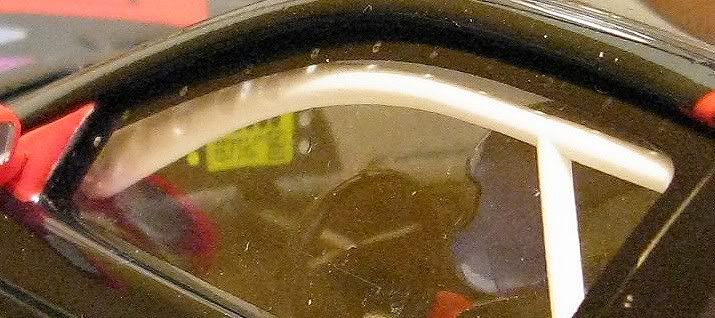 Interior detail is spartan and as with other Ninco angle winders, it has a half tray with driver detail and a roll cage. One thing which did strike me as novel was that Ninco have gone to the lengths to give the dash a green backlit type finish or even a digital dash appearance. Anyhow, the dash does shine quite well in the murky depths of the interior!








The driver is another non descript event and worst of all, the driver's helmet is an unpainted plain blue injection moulding, also a possible left over from a seventies Scalextric FI car??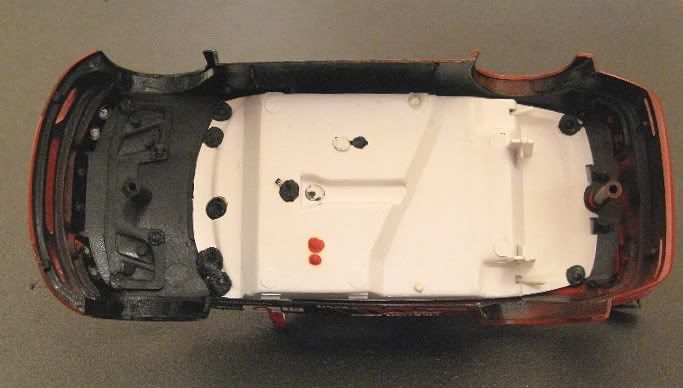 Once the body is apart it reveals nothing new which from a racing aspect is not bad news. Routine adjustments and set up will see this model set for the track inside an hour. Ho, hum, the motor is loose! Surprised? I think not!. Another weak spot is the chassis between the rear axle mounts. It is NOT uncommon for the chassis to split up the reinforcing causing the rear axle to work loose. My standard fix is to shape some 1mm plastic card to fit over this area. The chassis and card mating surfaces are scored with the tip of a sharp modelling knife and the card is superglued in place, THEN, the motor is hot glued in place. Remember, do not spare the glue and make sure the glue gun is HOT, HOT, HOT, or it won't bond well and will detach somewhere down the road at a crucial point in a race!! You have been warned. I usually glue one side, stand the chassis at an angle so the glue stays were you want it and doesn't flow off down the chassis, and once cool, I then repeat the operation for the other side of the motor. This allows me to get the maximum amount of glue where I want it!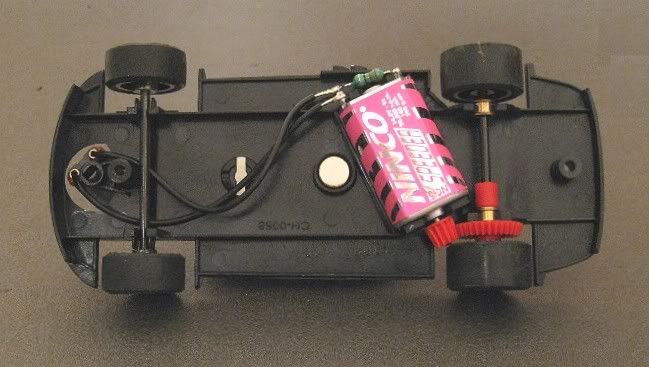 As far as body prep is concerned, the model comes in my favourite 'two screws' configuration. This allows a good deal of body tuning without having the body too loose. Front, rear and side edges of the chassis were scraped with the edge of a modellers knife to allow the body to move without catching. This model has some token exhaust poking through the body. Some folks cut these off as it is hard to get enough body movement with them in place. My solution is to open up the body slot with a modellers rat tail file. This will give ample room without defacing this part of the model. The screw holes in the chassis were also opened up a little with a rat tail file. This minimises the chassis sticking to the screw threads. Some people remove the RI device citing voltage drop to the motor but I haven't been able to detect a discernable difference and for the sake of peace and quiet in the home, I have left it in place.

A last observation was that one of the rear wheels was not tight?? A closer look revealed that one of the hubs was split!!?? Brand new from the box with seals intact!! This model has now become a bit of a joke. The quality of the model now falls below what we can expect from makers like Teamslot and not too recently, SCX! The fix was simple but unwarranted. I applied superglued to the crack and resealed the split hub. I then glued a short piece of snug fitting brass tube over the hub to prevent it from expanding. The wheel was then superglued back onto the axle. This repair will be fine but as already mentioned along with paintwork and detail, I thought makers like Ninco had left this sort of shoddy workmanship behind in the nineties.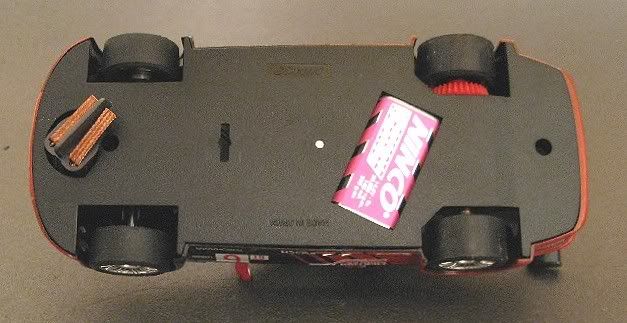 As I race competitively almost exclusively on board tracks, I take the opportunity to set each model up when I open them up for the first time. This model comes in at a good weight for board track racing and the only thing I would alter is the front / back weight distribution. The rear is carrying too much of the models weight and this could prove a handicap on tighter and twistier circuits. As it is already at optimum weight, the best I can do is to add weight to the front end. This will move the C of G forward and will give a little extra over the front wheels. About eight grams will give me a 40 / 60 split instead of the 33 / 66 out of the box. The extra weight will not be a problem for the NC5. The fitment of MJK's to the rear will be the only extra option I have to keep it under control, but that will come later. Ninco tyres do have heaps of grip if you treat them nicely. My first approach is to sand down the convex tread area and then on three consecutive evenings, oil the tread area lightly with singer oil (or 3 in 1). This will soak into the rubber and over a period of a week it will soften up the tread area and all that will be necessary on race nights will be to clean the tyre tread with some Shellite (lighter fuel), the tyres will then be soft and have all the grip I'm hoping for. The reason I only treat the tread is that this area will become soft and in becoming soft, it will expand slightly. If I soak and soften the entire tyre, then the whole tyre becomes soft and expands. You will then find the tyre won't stay on the rim!! This treatment also works for plastic track magnet racing.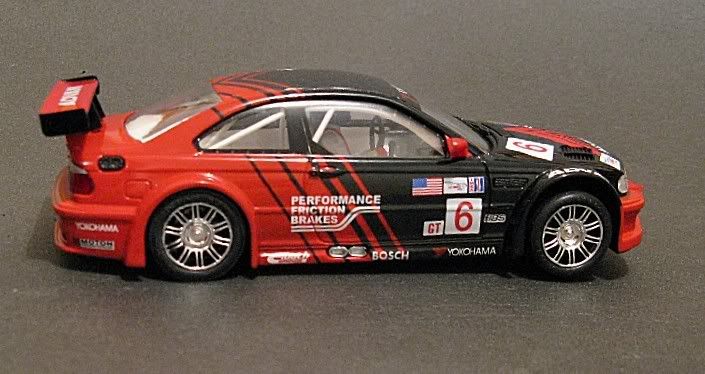 The front end is a semi floater too so that was a candidate to be stiffened up. I modified the front axle to a 'Wixle' to have independently rotating front wheels and still retain the single axle rigidity for corner stability. The model was placed on the acrylic set up block and the front axle tube was hot glued in place, completing the conversion. The front tyres were run up on a dummy wheel/axle and trued. I also radiused the outer edges and as a last measure I milled three or four grooves into them to reduce their sideways drag in tight corners.

So, what is it like on the track. I do hardly any plastic track racing so it must be assumed that as a model it is not too different from a lot of Ninco cars in its class. On the coarse grained Ninco track it will find the ability to hold on in the corners in the face of stiff opposition, but away from home turf it will find it hard to keep up. It's only saving grace might be big circuits with long straights were the NC5 can do its work but having said that, clubs with big tracks and long straights are usually the type of establishment which allows full on car upgrades!! Other than that it will languish behind Fly and Scalextric etc on shorter club and home circuits. Ninco cars SOOB find the new style smooth tracks like Carrera and Scaley Sport very hard to contend with!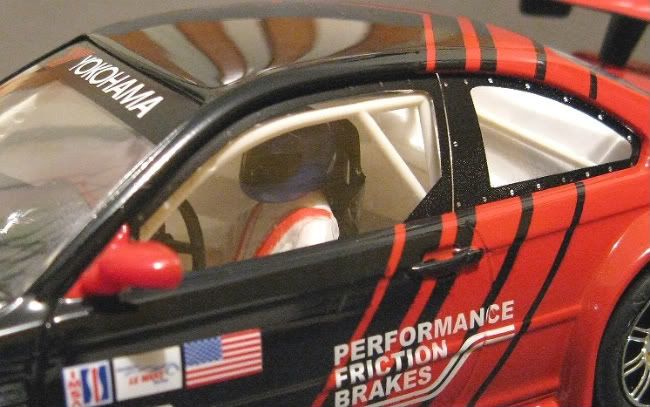 My home turf though, is painted board. A surface which is a great leveller and an excellent surface to pit your skills on. No magnet cheats here or bending chassis and grinding tyres within a jot of splitting. None of it works on my home turf! It's a case of balancing your model and most of all, honing your own driving ability!! You can't pull either of these out of your wallet! This is why many sham champions avoid it.

After the Bimmer was finished, I had the opportunity to race it on my local board track. A very tricky technical circuit were ability and setup are key requirements. Placing it on the track with its Ninco tyres I pulled off slowly and ran around with a couple of others who were testing models. Once I got the general feel of it I decided to push it a bit more. I chose the BMW for Le Mans modern GT as it is a bit longer than some and should be potentially less twitchy in the corners. The model has a high SOOB weight and a good footprint, making it more favourable over the Ascaris etc. I wasn't interested in the Mosler as every man and his dog are racing these! A Porsche GT1 would have been nice but I didn't feel inspired, so the BMW it was to be.

Picking up speed, the model in set up form displayed some good track manners. Corner entry was respectable and on several occasions I over cooked it only to find the model kick it's tail out but continue on its way!! Straight line acceleration out of bends with the treated Ninco tyres was very good and in general the model was well behaved. The only thing to watch was that on corner exit the power had to go on smoothly. Snapping the throttle open would see an oversteer exit from the slot. I ran it for several minutes with a colleague racing his Scalextric Aston Martin DBR9. Again another very quick model on the twisty track, we traded places regularly and I was happy that the Bimmer was on the pace off the tuning bench.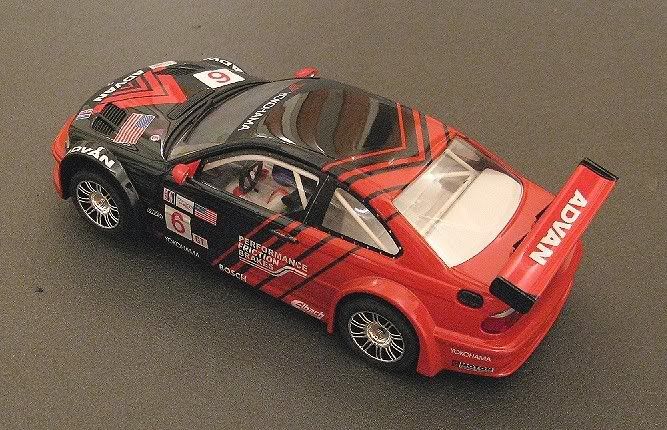 Next up was some serious competition in the form of the Eggdome on the North coast. A brilliant board track with a whole bunch of features to test man and model. Getting there in plenty of time, I set about running the class cars for the afternoon, Classic Sports cars, Sports Sedans (Gp5) and Le Mans Modern roofed (GT). This last one was the Bimmer's class. The evening before I had turned down a pair of MJK Urethane tyres to fit and they were still on the model. These tyres are a popular choice and go well with no maintenance straight out of the box. I ran several practice laps and was quite happy. The only thing I noted was that the back was inclined to drift just a little on pushing hard but I hoped that was going to be academic in a race. Come its first event it was clear that the tyres were to go off a bit over the distance and I was struggling to keep pace. This was reflected in a couple of silly deslots. I ran two heats like this and as I had taken the original rubber Ninco tyres with me, I decided to run the last two heats with them. A different story!! The tyre treads had been softened with thin mineral oil for a few days and sanded flat. After cleaning the tyres with some pure hydrocarbon, the grip was there and the tyres stayed useful to the end of the heats. I picked up first in both my remaining heats and even though I didn't clock the fastest lap times, the model was the most consistent and steering clear of trouble especially in the squeeze sections saw the model clock some good averages.
Statistics

Wheelbase				83.5 mm
Front Axle width			60.0 mm
Rear Axle width				59.0 mm
Overall weight				93 grams
Body weight 				31.0 grams
Front axle load				31.0 grams
Rear axle load				62.0 grams
Front / Rear weight dist		33.3% / 66.6%
Pinion					9z
Contrate				27z
Final Drive				3 : 1
Rear wheel diameter			21.0 mm
Rear tread width			11.0 mm
Progress				22.0 mm per motor rev
Guide length				18.5 mm
Guide depth				6.0 mm
Motor					Ninco NC5, 20,000rpm@14.8v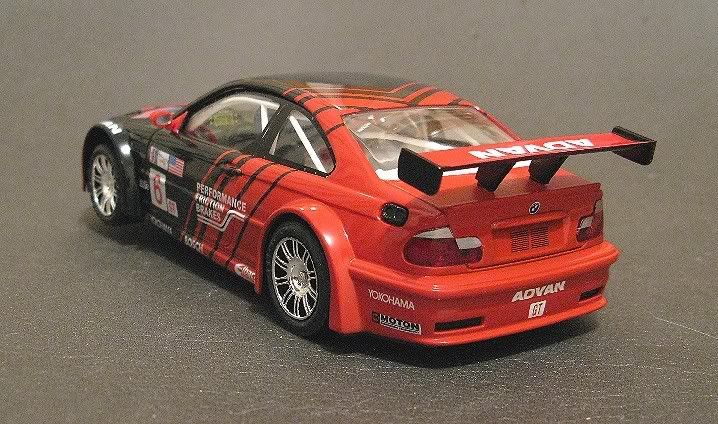 This model will be a serious tool in its motor class on medium to fast tracks and it acquitted itself well for a first outing on a technical track. I'm looking forward to giving it another outing as soon as possible. Ninco have produced a second rate model here as far as finish goes and its only saving grace is its ability to be set up for serious racing.