NINCO FERRARI 310 B




By

Phil Wicks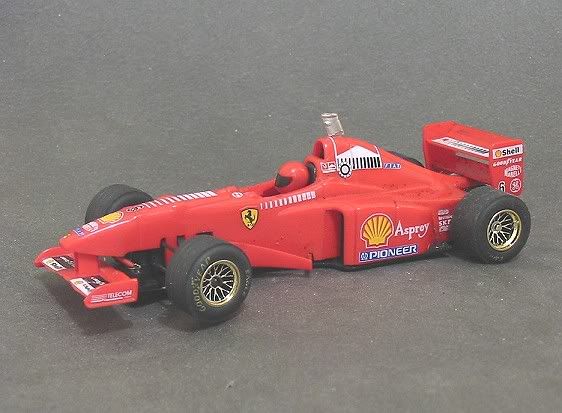 When I first got back into RTR slotcar plastic track racing several years ago there was little choice in a lot of classes for really outstanding slot cars. Fly and Ninco were on the ascendancy and Scalextric and SCX had been top of the heap for some time.

A winning Rally car had to be an SCX Peugeot 206, GT1's were the Ninco Ferrari F50's, LMP's were SCX cars and Formula 1's were an unresolved issue.

The standard at the time were the SCX F1's simply because the Nincos were to hard to body tune. If you had a track with enormous straights then the advantage was with the Ninco but if you raced on the average Scalextric track with shorter straights then the SCX cars were hard to beat. The traction magnets could be lowered 'til they touched the rails almost and if you had one with a strong motor it would be unbeatable.

Never the less, even though I was winning with my lime green Minardi I was attracted to the Ninco Ferrari F310B. I had the car for some time before it actually was to prove its worth. On plastic it was just compatible if the front chassis screw was slackened of 'til the chassis just touched the rails (this is were the button magnet is mounted). And on a good day could just hold its own. But with the advent of board tracks to the calender the Ferrari went out in a class of its own!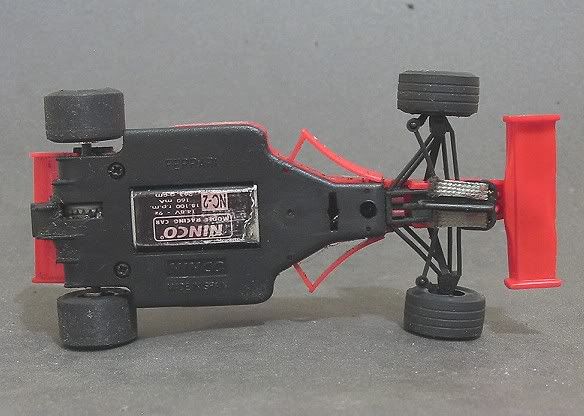 The punch of the NC2 could be semi tamed by cleaning the tyres well and performance on board tracks with Ninco tyres was exceptional, Even SCX F1's with the Pro Turbo step up motor were left to languish amongst the also rans. When the new breed of Scalextric F1's showed up, they too were pretenders to the F1 throne. The Ninco F1 was supreme and not racing one meant second place or worse!

And so, recently I dusted of my now retired Ferrari and took it for a few hot laps at the local board track I frequent. On its last official outing almost a year ago it wiped the board and was a country mile in front of all bar one other Ninco F1 driven by local 'Skaifey' Smith. As it had been raced I didn't bother with stage one and two tuning, this already having been done. All that was left was to give the rear tyres a bit of a light sanding and a good clean and off we went onto a hot red lane and some memorable laps.

I'd forgotten just how quick it was. The NC2 motor may be old hat but with its 9/24 final drive ratio it has plenty of zip. Driving it for twenty or so laps saw times come down into the 7.6's and settle there. After the tyres started to get a bit ragged I took it off and cleaned them with WD40 and dried them off again. Holy Moly! It was impossible to keep it in the slot at the yump on the back straight so it was restrained to keep it from deslotting. Best lap time reduced to 7.428 but this was including backing off half way down the back straight to keep it on! I estimated it could well have finished up doing 6.9's but for the yump.

No matter, the car was a veritable projectile and on the test track was possibly going to be the quickest of all time. The Ninco tyres didn't need anymore grip and cornering was positive and fast. Corner entry speed too was excellent and at the point of deslot the model lifted up on two wheels and did a sort of 'Western Roll' coming to rest in the landscaping.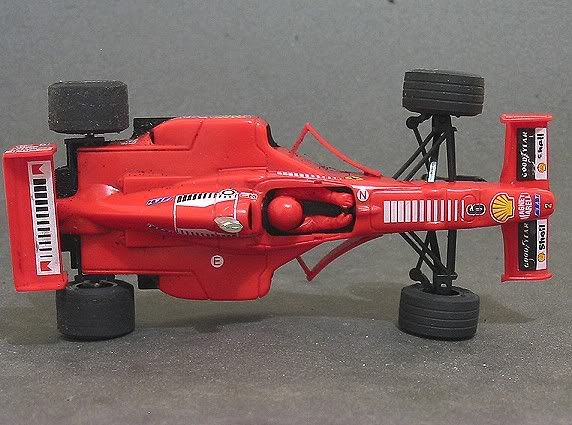 On board the model's strongest feature is its corner exit and straight line speed. There are other RTR F1 models that corner as well but none that I know of that can match its acceleration on 12 volts, a feature of its long armature high torque motor. The whole layout of the car is well balanced and it is a delight to race.

The model is made well and carries basic detailing and decals, Unlike some other leading brands it is very robust. The rear wing is durable and the front wing is a push fit into the nose thereby making it instantly detachable should the occasion arise. Unusual for these days it has front end steering. This too is very robust and it is very unusual for any part of its linkage to become detached in a deslot.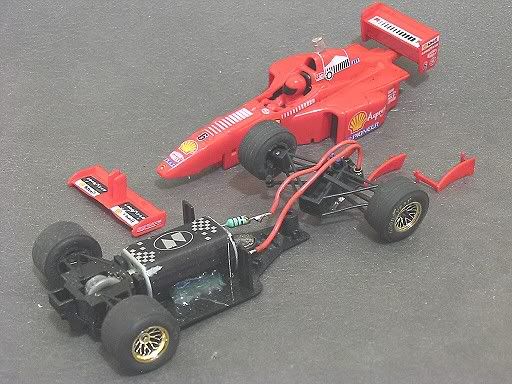 Three screws hold the floor pan to the body and when fitting the body the barge boards have to be held skilfully in place. The steering front end is held in the nose cone by very sturdy clips. Wheels are gold anodised and very attractive too (I love wheels!) again the fronts clip over stub axles but I don't recall them being a problem. The model overall does have a 'toy' look about it. Most of it is finished in the natural red plastic of the moulding but then this model was made for racing firstly!

The button magnet is mounted in front of the motor which puts it half way up the car. On plastic tracks, Ninco models of this era had a scary breakaway when the traction limit was reached. Once the 'G' force exceeds the magnet strength the car will go into a single tail twitch. If you're lucky and catch it you can go on your way albeit a little slower but the alternative outcome is a big sideways off and a scramble for the marshalls.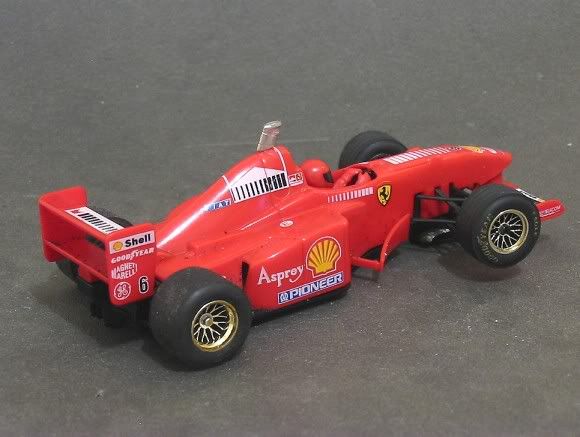 Statistics


Weight						75 grams
Front Axle / guide load	        		29 grams
Rear axle load		        		46 grams
Front / Rear weight distribution	        38.5% / 61.5%
Wheelbase					90.50 m.m.
Front axle width				66.50 m.m.
Rear axle width	        			65.0 m.m.
Pinion						9 z
Crown wheel					24 z
Final drive ratio				2.66 : 1
Rear tyre diameter				21 m.m.
Four F1's were available, the Ferrari F310B, The Stewart SF 02, and two Arrows A20's, the number 14 and 15 cars. If you race on board tracks or plastic tracks with lonnnnng straights, in the right hands these models should still be competitive in RTR classes. So next time you're scouring eBay, keep your eyes peeled for one of these little beauties, you won't be disappointed!]