BMW X5 RAID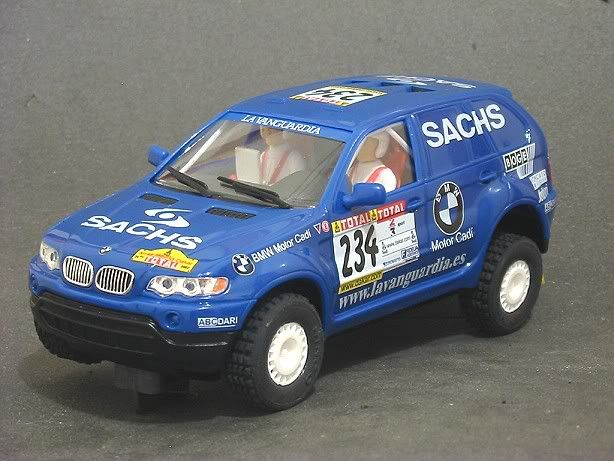 By

Phil Wicks



When the Raid series of models were first announced by Ninco I was not at the front of the queue to buy one of them. Far from it! They didn't appeal to me at all and the first priority of a slot car purchase, 'Can I race it?' was not met. So it is that some time has passed before I decided to buy one. The main reason for buying was that it was kind of quirky for a slot car and after seeing what that inimitable doyen of the wooden track 'Old Slot Racer' could do with one I then thought I may not have the track but I can still have the car!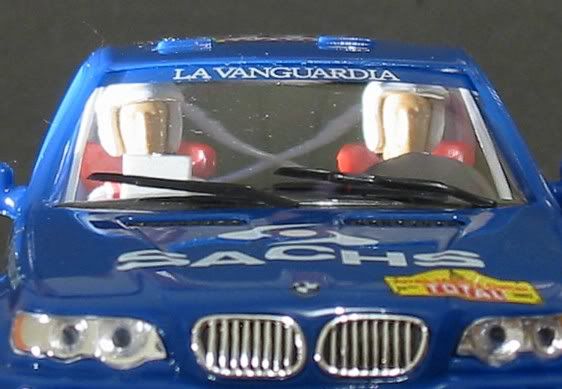 Well, partly. The other reason was that the Slot shop in Sydney was clearing them out for $39.00 ! yes, $39.00. So, a couple of exchanges of email and this little beauty was winging its way to me. I had already driven a friends Ninco pickup and was duly impressed and I took a punt that it couldn't be worse.

The car arrived and I eagerly unwrapped it to study it in minute detail. First, details for the collectors amongst us is that the display box it comes in is BIGGER! than the normal Ninco cases so you'll have to start a new stack if you're collecting this stuff. Next, it is a very positive replica of the only van that BMW makes!

Some detail is good and some is lacking. Overall finish and decals are good and without checking I'm sure that they are mostly accurate. There is a moderately detailed interior with requisite dash detail and fire extinguisher. The driver and navigator follow the trend of most manufacturers by being twins and the navigator even has stage notes on his clip board. Ninco still rely on a lot of lacquered plastic and this is obvious in some details. Whereas the headlights and grille are well modelled, the rear lights are featureless and the reverse lights are painted on the body proper!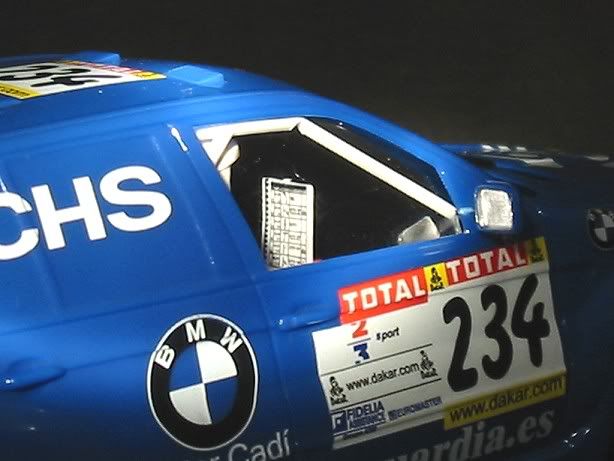 Wheels too are a plain white moulding and lack that little extra which might have sparked it up. The tyres are nice a set of knobblies and a very good soft compound too. Apart from the wheels the other detail which lets this model down a little bit are the mudflaps. Plain yellow plastic! Very ordinary, very plain.
OK, down to the nitty gritty. This model has work to do and I am not going to accept excuses for poor performance. Body off, let's have a look, hmmmmmm ? Very interesting. Ninco have retained the band drive to the front axle as they have done with such models as the Subaru. There is a pulley mounted front and rear and these are linked by a square section band. Turning the front wheels generates only slip and no turning motion to the rear, unlike the Scalextric Peugeot 307 which has an admirable band drive system.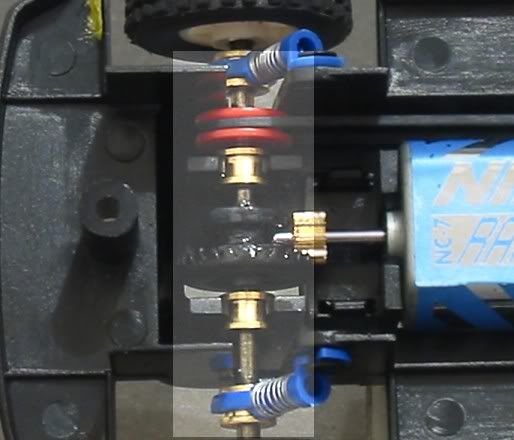 The pro shock system is all there as far as design goes but the axles carry four brass bushes each. Two to carry the shockies and two to locate the axle in the chassis and limit its overall travel. The guide is mounted in a spring loaded drop down guide and has a minimum of travel.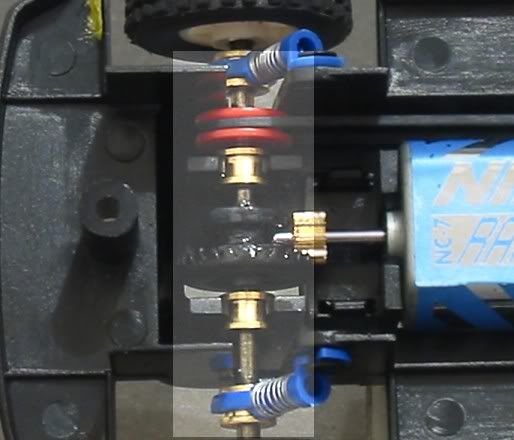 The motor is the 'Raider' NC7. Not the fastest of the Ninco range but it does appear to produce a tad extra torque than other motors in the same rev range. It certainly has enough zip to push this little beauty round the 21.00 metre Red lane of my local track.

The driver's tray is fixed quite securely into the body and is not likely to be a source of rattles and vibrations that I can see. There is a fairly powerful traction magnet mounted between the contrate and the motor, again this doesn't generate a mass of traction but does help to keep the car upright for reasonable distances.

The shockies aren't really shockies but are more like coil springs. There is no hydraulic damping, just the friction of sliding parts. Never the less. Ninco have done a great job in mounting them where they are not likely to be a source of trouble. I am told there is a range of varying spring pressures denoted by colour. This model comes with blue shocks.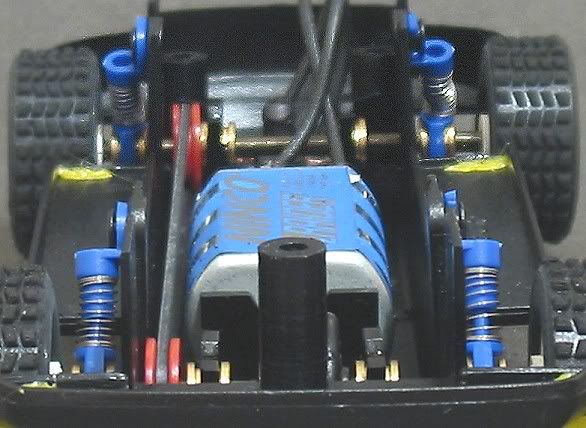 Having been brought up on a strict diet of keeping the axle and motor fixed to each other, I am really quite surprised how smooth the transmission is. I would have expected there to be problems with juddering but not at all! The car is smooth and controlled all the time. Also, the chassis is held in with three screws, two at the front and one at the rear. This is almost my ideal set up and it is strange that it should appear on the Raid models and not on others?

Next step is the track test. Unlike other reviews, I couldn't see the point in going over the top in tuning as this does, after all, break all the rules regarding track set up! So a jolly jaunt was going to be the size of it.

This is another quiet model and after doing twenty or so laps on my local board track I cranked it up to ragged edge speed to get the low down. Well, as yet I don't know how it goes on plastic but one thing's for certain. In spite of its size and set up it goes mighty fine on board! You heard it. The knobblies, springs, rubber band and drop down guide all did their job to ensure the success of this test. The car surprisingly drove as well as fifty percent of modern slot cars and did a comfortable fastest lap to boot.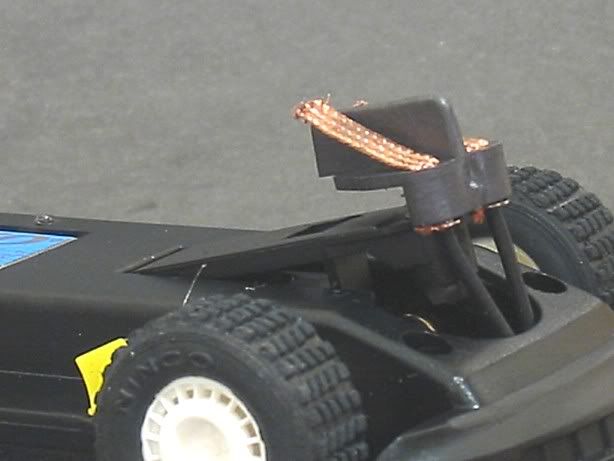 The car cornered hard without too much stress and had an appreciable acceleration and turn of speed. Corner entry too was displayed with confidence and I was soon enjoying the bid to squeeze another tenth or two from the lap time. A final fastest lap of 8.287 secs in red lane wasn't cutting edge but for a car I was expecting to fall over at every corner it was truly inspiring. Hard down the straights, hard into the bends and hard out of the bends. I could have been driving anyone of a number of models.

On plastic the car is very sprightly, Laptimes were in the NC1 class as the traction magnet works flat out to hold things together. The car will corner confidently with massive body lean and will even corner on TWO WHEELS with the aid of the drop down guide. Eventual deslotting will see it go straight on, on two wheels! before it meets an arresting object.

Although not removable, the door mirrors look a bit vulnerable but do seem to have a little flex in them and the mudflaps look totally safe so there isn't too much to be concerned for.

After sharing the drive with two companions we agreed it was a packet of pleasant surprises, so much so that it was almost tempting to include a single lane 3D rally track into the drawings of my next projected track!

Conclusions are that all self respecting racers/collectors should have at least one of these models in their stable. The ugliest 4WD so far (VW Touareg) is due for release soon and along with the Mitsubishi should provide hours of entertainment for their owners. For those with Scalextric or SCX track it would almost be worthwhile getting the Ninco track converters and fitting some Ninco off road corners to their layout! Board racers only need to route an extra lane on their layouts and spatter it with filler to give the desired effect.

So, if you haven't done so already, get on the net and order your raid car now, you won't regret it!